Contact :
dominique.certon@univ-tours.fr
/
daniel.alquier@univ-tours.fr
Two original applications of cMUT applied to medical applications were recently investigated and funded by the French Research National Agency. The first, ANR COSTUM, was the development (in collaboration with LIB – UMR CNRS 1146 / UMR 7371) of a linear array (figure 6) dedicated to bone quality imaging. The probe is made of ultrasonic emitters and several dozens of ultrasonic receivers. The probe is placed in contact with the skin of the forearm and when emitters fire, they generate in the cortical layer of the bone a set of guided modes, so-called Lamb waves. The experimental position of these modes in the k-wave domain is then used for adjusting, by inverse problem, the elastic properties of the bone. This experimental technique is called the axial transmission measurement.

Successful results were obtained with the first prototypes. Measurements of guided modes in a bone mimicking plate obtained with the cMUT probe were compared with a piezoelectric probe (figure 7). Advantages of cMUT technology were clearly their ability to cover a large frequency range, i.e. from 500 kHz up to 3 MHz (figure 8).

FIG 6 : Axial transmission measurement : principle (a), probe topology (b) and medical apparatus developed by the LIB Laboratory (c)



FIG 7: Dispersion curves of the bone mimicking plate measured with the cMUT probe.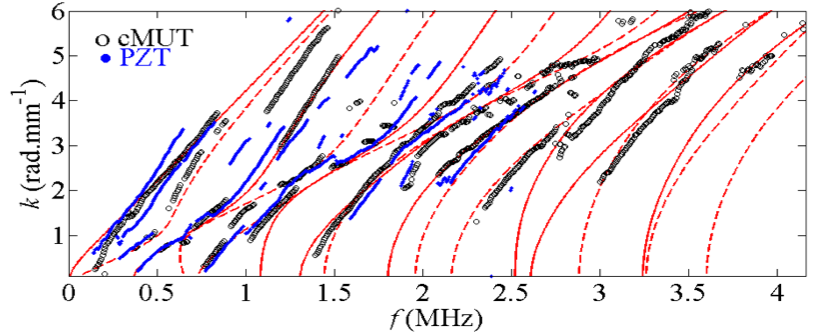 FIG 8 : Results for a 2.2mm thick bone mimicking plate: theoretical (continuous and dashed lines) and experimental Lamb modes obtained with cMUT (circles) and PZT (dots) probes. For the cMUT probe, the circles correspond to the maxima observed on the Figure 7.

The second (THERANOS project) aimed to fabricate a dual-ultrasonic probe dedicated to imaging and therapy. Targeted applications are the fabrication of probes to help in the development of new drug delivery protocols. Here, thermal sensitive liposomes are used to carry drugs and then, to release it, under thermal elevation effect due to the application of moderate intensity acoustic field.

The fabricated prototype (figure 9.a) was designed for small animal imaging. It is composed of two kinds of arrays: four low frequency probes (@ 1 MHz) driven by high power CW emitters in order to produce the heating ultrasonic beam and one linear imaging arrays (@ 16 MHz). The four low frequency arrays are placed on a cylindrical shape frame in order to focus ultrasound at 20 mm from the probe. Moreover, each LF array contains 8 emitters that can be triggered individually to create electronic focusing. The mechanical and electronic focusing allowed obtaining peak-to-peak pressure amplitude, at the focusing point, of 3 MPa. Furthermore, elevation temperature tests were performed in glycerol and +7 °C was measured. The measurements were repeated several times in the same day, with 10 minutes rest between each experiment, without impact on the probe behavior neither on its ageing.

A second prototype is under investigation, where the LF arrays are replaced by four annular arrays in order to gain in focusing and so, to keep a flat shape dual-transducer (figure 9.b).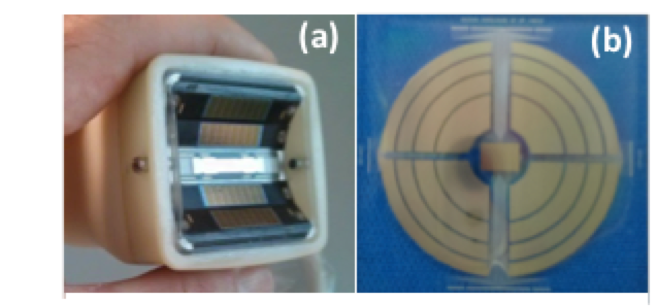 FIG 9 : Photograph of two prototypes of dual-probe : curved transducer (a) and flat transducer (b)