Contact :
guylaine.poulin-vittrant@univ-tours.fr
/
daniel.alquier@univ-tours.fr
A possible route to cheaper the
piezoelectric energy harvesting devices
is using low cost manufacturing :
hydrothermal synthesis
appears as an interesting candidate, compared to MEMS technologies, that are often proposed in academic research. In 2007, a new type of microgenerators based on piezoelectric semiconducting NWs has shown promising performance for electromechanical conversion. Since then, there is a tremendous interest for using these one-dimensional (1D)
piezoelectric nanostructures
for mechanical energy harvesting.
Indeed, in some aspects, they possess superior properties compared to their bulk counterpart: high surface to volume ratio, high piezoelectric coefficients, higher sensitivity to low frequency motion, high mechanical strength, flexibility, mechanical robustness, piezoelectric and semiconducting properties. Such aspects are still far from being completely explored: coupled physical properties, scale effects (surface or volume phenomena), etc. Among several materials, ZnO NWs is one of the most promising candidates. It has high values of piezoelectric coefficients, it can be grown at low temperature on almost any substrates, the carrier density can be tuned by moderate temperature annealing, Schottky and Ohmic contacts are studied for many years, and finally, it is environmentally friendly (lead-free). Today, the output power density generated by the best prototypes in the literature reaches about 5 µW/cm2 [L. Lin et al., Nano Energy 2 (2013) 75-81]. The peak values of generated voltage can reach about 30 V and typical currents are in the range of µA.
GREMAN has a well-known expertise in all the aspects of piezoelectricity, and more specifically on piezoelectric nanowires for more than 7 years. It has started by modeling aspects and it is reaching now the level of ZnO-based piezoelectric generators. The whole device is designed and fabricated in GREMAN: growth of the ZnO nanowires, device fabrication and characterization. GREMAN's technology is now mature enough on silicon substrates to be optimised for specific applications, specific loads and specific flexible substrates. Today the heart of the project is to develop a prototype that integrates, on the same flexible chip, a microgenerator that converts this ambient mechanical energy into electrical energy that can recharge a lithium battery, through a specific electrical converter (figure 4). Since the efficiency of such a mechanical harvesting device strongly depends on the matching between: a piezoelectric microgenerator, the power management block, the electrical load block (a Li battery), we propose in this project to have an integrative approach: studying and designing the whole energy conversion chain. The piezoelectric microgenerator is a ZnO – polymer composite device that will be optimized in order to fulfill the requirements of the other sub-systems, power management block and Li battery. The prototype will be tested using a dedicated test bench developed at GREMAN in operating conditions close to the targeted mechanical sources - fluid flows (like wind or river), parasitic vibration (in engines or rotating machines, for example) or human movements (voluntary motion like walking or hand movements).

Consult project website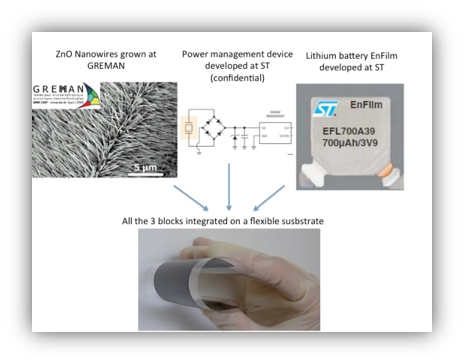 FIG 4: ZnO nanowire based microgenerator harvesting ambient mechanical energy in order to recharge a lithium battery through a specific electrical converter